Covid-19
---
---
Updated 19/10/2020
We have received a lifeline grant from Government's £1.57 billion Culture Recovery Fund
We have been awarded £309,922 as part of the Government's £1.57 billion Culture Recovery Fund (CRF) to help face the challenges of the coronavirus pandemic and to ensure we have a sustainable future.
We are one of 588 cultural and creative organisations across the country receiving urgently needed support – with £76 million of investment announced over the weekend. This follows £257 million awarded earlier in the week to 1,385 organisations, also from the Culture Recovery Fund grants programme being administered by Arts Council England on behalf of the Department for Digital, Culture, Media and Sport. Further rounds of funding in the cultural and heritage sector are due to be announced over the coming weeks.
Emma Butler Smith, Marina CEO, said: "We are thrilled by the news that our application to the Culture Recovery Fund has been successful. This is what we desperately need. The last seven months have been very difficult, and we've been faced with heart-breaking decisions at every turn. Our priority is to keep the Marina alive and at the heart of the community that loves it. This grant makes a future possible and gives us a fighting chance through the challenging next six months. We're proud that the Arts Council thinks we are worth saving and the support from the CRF means the future is looking a little brighter for us and for the people of Lowestoft.  We are excited to begin rebuilding our audience and continue to play a key role in the regeneration of Lowestoft.
"Our Café & Box Office reopen on Wednesday 21 October and we plan to welcome people back into the theatre for some films and screenings from Friday 6 November. It's a gradual start and a far cry from last year, but we have a new bounce in our step and are excited about reimagining our programme.
"It's been a really traumatic few months. When we launched our Survival Appeal at the end of July, we had already cancelled 325 shows and since then we have been forced to postpone all 33 performances of our pantomime. The Appeal has now raised over £22,000, which is simply staggering, and just goes to show how much we mean to our customers and our community. We are very grateful, and take this responsibility very seriously. We will continue to do all we can to protect the Marina, and ensure that it survives."
Culture Secretary Oliver Dowden said:
"This is more vital funding to protect cultural gems across the country, save jobs and prepare the arts to bounce back. Through Arts Council England we are delivering the biggest ever investment in the arts in record time. Hundreds of millions of pounds are already making their way to thousands of organisations.
"These awards build on our commitment to be here for culture in every part of the country."
Chair, Arts Council England, Sir Nicholas Serota, said:
"Culture is an essential part of life across the country, helping to support people's wellbeing through creativity and self-expression, bringing communities together, and fuelling our world class creative industries.
"This latest set of awards from the Culture Recovery Fund builds on those announced recently and will help hundreds of organisations to survive the next few months, ensuring that the cultural sector can bounce back after the crisis.  We will continue doing everything we can to support artists and cultural and creative organisations, with further funding to be announced in the coming weeks."
---
---
Updated 28/08/2020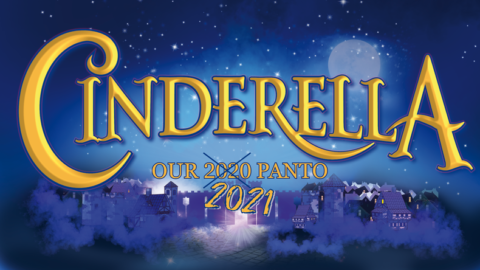 It is with a heavy heart that we, and Paul Holman Associates, are announcing the postponement of our Christmas pantomime, Cinderella, until 2021.
"It is with great sadness that we have come to the conclusion that we have no other choice but to postpone this year's production of Cinderella. With no further government guidance of social distancing expected until at least November, even if we were given the go-ahead at that time, it would sadly be too late to put together a production on the scale that we would want to present. This year we want to make sure that our loyal audiences, cast, crew and theatre staff are all safe. But we will be back next year, bigger and better than ever before uniting family and friends once more with a log-awaited dose of fun, laughter and escapism."
Paul Holman, Panto Producer
"Panto is our busiest time of year, it's when we see our highest footfall and make most of our money – but more importantly, it's the time when our building, our staff and all our extended Marina family really come to life. To go ahead with Cinderella at this time – under current social distancing restrictions – isn't financially viable for us or the whole team behind the production. We want to make this production bigger and better than ever. For us that has to mean waiting a year and hopefully being able to don our glass slippers and send Cinderella to the ball free from current restrictions."
Emma Butler Smith, Marina Theatre CEO
Last year's production of Snow White played to over 12,200 people and accounted for about 10% of our annual revenue. The cancellation of this year's pantomime will prove not only a major financial loss to us but also a great loss to the local community who enjoy both the theatre and the pantomime as part of their annual Christmas traditions.
We recently launched our Survival Appeal to raise £100,000 to help the Theatre to re-open.
"We've been quite overwhelmed with the amount of support we've received from people so far. To know what this theatre means to people and to know that we have their backing as we keep fighting for our survival is a real boost for all of us working at the theatre. Losing Panto is a big blow – as it is for many regional theatres – so now more than ever we need your support. Please do whatever you can to help us, donate a fiver, £10, £20, start a fundraiser, or display a poster in your front window. If you feel strongly, as so many do, that the Marina needs to survive and bounce back strongly – this is time to show your support."
Emma Butler Smith, Marina Theatre CEO
There will be plenty to look forward to in 2021, with Lowestoft's favourite Terry Gleed confirmed to return in the role of Buttons. This will be Terry's 6th Panto with the Marina, and audiences can look forward to another year of his custom wit and show-stealing slap-stick comedy. Award-winning performing duo Lav & Lou will return to Lowestoft in the role of the Ugly Sisters – bringing their fantastic costumes and acerbic tongues with them. Paul Holman Associates have also confirmed that TV star John Lyons (A Touch of Frost) will join the cast in the role of Dandini.
Customers that have already purchased tickets to Cinderella for 2020, will be contacted by our Box Office team. Customers will be given the option to hold their tickets for 2021 – at the current prices – or to either donate the cost of their tickets to the theatre, or claim a full refund. We ask that, while we carry out this work, customers do not contact us directly as we are still operating a much reduced Box Office.
Cinderella will now run from 13th December 2021 to 2nd Jan 2022.
---
---
Updated 24/08/2020
Marina Theatre Redundancy Statement
The Marina Theatre's staff consultation process has now finished and it is with deep regret that the Marina Theatre Trust Board has had to make the difficult decision to restructure its staffing model in the hope of surviving the current Covid-19 crisis. As a result, eleven staff have this week received notice of redundancy. In addition sadly, twenty-four zero/variable hours staff were given notice in July.
Emma Butler Smith, CEO, said:
"It is devastating to have to make these decisions. Marina staff are our theatre's lifeblood, they really are a family and losing them is hard for everyone. I can only pay tribute to their loyalty, commitment and hard work. They don't deserve this, and they will be sorely missed."
David Blyth, Trust Chair, said:
"The economic climate for theatres is desperate at the moment, but the Trust remains committed to staying alive in the heart of Lowestoft. We are having to take drastic and painful actions now, but plan to open with a reduced programme of films & café in the autumn. We want to keep our theatre going. In hard times, it's all the more important to have places like the Marina where people can meet and enjoy themselves."
The Trust very much hopes to be able to open a full-scale operation in the future and offer staff who wish to return to come back and re-join the Marina family.
---
---
Updated 30/07/2020

Marina Theatre Survival Appeal
The Covid-19 crisis has dealt the Marina Theatre a devastating blow and we urgently need your help.
Since we closed on 17th March almost all our income has dried up. We have cut our costs and taken advantage of every government-backed scheme available to us. Public money accounts for less than 10% of our £1.6m annual turnover and we work hard every year for the remaining 90%, through ticket sales, café/bar income and community participation programmes. Proudly relying on earned income as we do, it's been devastating, not just financially but for our ambitions to bring to you an incredibly diverse programme.
Since becoming a charity nearly 10 years ago, we've gone from strength-to-strength.  Last year, over 10,000 people bought over 71,000 tickets to 467 live events and film screenings and a further 4,855 took part in our outreach programmes for people of all ages, but 2020 has been so very different for all of us and for the Marina.
This year, we've cancelled 325 shows so far, with a loss of income of over £421,454. The next few months will be crucial for our survival.
We've spent weeks and months exploring all possible options, but now the Marina has been forced to begin a redundancy consultation – we hope that if we act now we will stand a better chance of survival. This wasn't an easy decision. We employ so many local people but we've had to start this process in the hope that we can save at least some jobs and begin looking forward. We have to protect the future of Our Theatre.
Even though government has announced that venues like the Marina can open from 1st August, current social distancing measures mean it just isn't financially viable for us to do so.  Social distancing reduces our audience capacity from 775 to between a maximum of 98 and 196, and smaller groups means these reduce even further. Once you add in the extra staffing and cleaning costs, it just doesn't add up – for us, or for our performers.
Despite this, we are exploring other re-opening options so that we can present some kind of programme until such time as social distancing measures are fully lifted. However, to deliver any of those, we will need your financial support as all of them will require some level of subsidy.
The loss of the Marina would be devastating, not just to those of us who love theatre but also to our local community and economy.  And it isn't just the live shows that are at risk either, it's the workshops, the café, and the incredible outreach work which we do with local schools. It's the Youth Theatres, the Next Stagers, the choir, the ukulele group, and the book club. It's the community which we've built and the friends that we've made. We are an important part of our town and many businesses around us rely on our audiences to sustain themselves.  We have an important role to play in the recovery of Lowestoft in the months ahead and we can do that with your help.
Setting aside our significant losses this year, we have an opportunity to re-open in the months ahead and save at least a number of key jobs to deliver a limited programme and start planning for a better 2021.  To do this, we need to find £100,000 in the coming weeks.  We are talking to Lowestoft Town, East Suffolk and Suffolk County Councils and they remain supportive and are looking to help.  We hope Arts Council England will also help us to thrive again but we hope you will consider helping us too.
Please donate £5, £10, £20 or whatever you can afford in these difficult times, perhaps more – if you can afford it.  You can make a donation today and help the Marina in these financially difficult times.
In these unprecedented times, we have to ask you to help sustain the Marina. Every penny you give will help us prepare to re-open and be at the heart of Lowestoft again, welcoming you back inside.
David Blyth
Chair of the Board of Trustees
Emma Butler Smith
Chief Executive Officer
---
---
Updated 14.07.20
Marina Theatre Trust Restructure Consultation
The impact of Covid-19 on the Marina Theatre has been immense. The Marina is heavily reliant on earned income from tickets and sales of food and drink.
Over the last few years we have worked incredibly hard to pick ourselves up and become the theatre that Lowestoft wants and loves. Our dependence on public money accounts for less than 10% of our £1.6m annual turnover, something of which we have been very proud.
Since March we have not been allowed to open and trade. Even if we were allowed to open, with social distancing in place & public worry a very real consideration, it just isn't financially viable within our current operating structure. We have been incredibly grateful to the Arts Council for its Emergency Funding award and have made full use of the Coronavirus Job Retention Scheme. However, this just isn't enough.
As a result of this and our catastrophic drop in income, we have reached the conclusion that we have no choice but to reduce our overheads and scale back our operation. We have had to make the incredibly hard decision to begin a period of redundancy consultation with our staff. This may result in making up to 71% of contracted roles redundant and making others part-time.
We have spent weeks and months exploring all possible options and this is the only hope the Marina Theatre has of protecting its future. With no guidance or funding from government or any certainty at all, we have no choice but to retrench.
This is a devastating time for everyone involved, and we must do all we can to look after our staff now. Our people are what makes the Marina the wonderful place it is. Their commitment and resilience are incredible. This is an incredibly sad and painful time.
The Marina Theatre Trust remains committed to playing a key role in the cultural life of Lowestoft. We will be a different organisation when we emerge into a very different landscape, but we want to be able to offer our audiences the very best entertainment we can. As soon as we can re-open safely and economically, we will welcome back our community.
"This is an awful decision to have to make, but we are faced with no other choice. Our staff are wonderful people: loyal, committed and hard-working and they don't deserve this – no one in the industry does. Heart-breaking doesn't begin to describe how we feel and we are devastated to find ourselves at this point. In February we were in the best place we have ever been financially, with exciting plans and a solid business plan. Even after all these weeks, it is hard to realise that our bright future has been taken from us."

– Emma Butler Smith, Chief Executive

"In these unprecedented times for the Arts in England, our aim is to ensure we save the Marina Theatre for our future audiences and it is with this in mind that we have had to look at these drastic changes.
The Marina Theatre, under the leadership of the Trust, has gone from strength to strength. We have one of the best management teams across all skills, a diverse programme for all our audiences, wide community engagement and a beautiful building.The Marina is at the heart of Lowestoft and you can be assured we are doing everything we can to secure the building for the future"

– David Blyth, Chair of Board of Trustees
We would like to thank everyone who has helped us so far, from our landlord Lowestoft Town Council which has waived rents and brought forward management payments, to our wonderful audiences who have made donations and kept credit on their accounts.
We'll be back as soon as we can.
---
---
---
Updated 07.07.2020
Due to continuing restrictions and uncertainty around live theatre because of the Covid-19 pandemic, we've had to make the very difficult decision to cancel our Autumn programme. It is with much regret that we announce that all events taking place up to Monday 30th November 2020 will be cancelled or postponed.
We've made this decision with a very heavy heart, and after discussions with many of our visiting performers and promoters. Our priority must be to guarantee the safety of our audience, staff, performers, and the survival of the Marina Theatre in these exceptionally challenging times.
Many shows due to take place in the coming months are being moved to new dates in 2021, and we continue to talk with many of our performers and their producers about slotting them in to our programme for next year, so that you can return to us safely and enjoy another great evening out at the Marina.
We remain committed to Lowestoft and the communities around our town and we continue to plan for our re-opening. As an important local charity, we have a critical role in bringing our town and wider area back to life after all that we've faced in recent months. We are exploring options that we believe could enable us to offer a Covid-19 Secure environment at the earliest possible opportunity, albeit with a limited programme and limited seating capacity.
The reality is that we have been hit hard financially by this pandemic. It is likely that delivering this modest programme will require us to secure additional support, otherwise it could make our financial position even worse.
We want to re-open as soon as we can, but we will need your help to do that. These are the ways you can help us:
• If you've booked tickets for a show that's been postponed, your booking can be carried forward to the new date. Please keep that booking with us rather than requesting a refund if you can. If you ask for a refund, we will of course provide it but we ask you keep your booking and look forward to joining us for our Re-Opening Season
• If you've booked tickets for a show which has now been cancelled, again, we can of course provide you with a refund, but we do ask you to consider converting your ticket into a donation to the Marina Theatre Trust.
• Above all, if you've loved your visits to the Marina Theatre and you want to see us come through this challenging time together, please make a donation to ensure that we remain a vital part of our community into 2021.
We will be back – and your support will make that possible!
---
---
---
Updated 27.05.2020
11 weeks have gone by since we announced our closure and put most of our staff on furlough, but a few of us stayed on – working from home – rescheduling shows, keeping in touch with our customers, paying bills, and generally working hard to keep our Theatre ticking over! Now we've made the decision to step back for a short while. To take a little three week hiatus. WE WILL BE BACK! And we should hopefully (fingers crossed) have a clearer idea of when and how we can start to safely reopen.
So, this means that our Box Office will be closed from 5pm on Friday May 29th until 10am Monday June 22nd. You can still purchase tickets, make donations, and buy memberships/ gift cards via our website www.marinatheatre.co.uk. But if you have any special requests, or if you need to speak to someone, please wait a little while and get in touch after Monday June 22nd.
To everyone who has stuck by us in the last few months, buying tickets and memberships and making donations, liking and sharing our posts on social media, and giving us the time we needed to readjust to new working conditions – you're the best! We couldn't do this without you. This is only a short interval… we'll see you in Act Two!
The Marina Team x
P.S. We want to keep our Social Media pages active and so are scheduling in a whole range of posts which will come out automatically. Please remember this when reading them, as we'll likely not be able to answer any comments or questions!
---
---
Updated 24.03.2020
Due to the ongoing situation with coronavirus and the current government advice, we have taken the necessary decision to cancel all events up to and including the end of June. We're sorry for the disappointment and inconvenience that this may cause.
If you have tickets to a cancelled show our staff will contact you directly. Most customers will be contacted via email in the first instance, so make sure to keep an eye out for emails and be sure to check your junk folders regularly. Please do not contact the Box Office. Please bear with us, and thank you for your understanding and patience.
Although we closed our doors to the public on Tuesday March 17th many of our staff have still been working in the building contacting customers and rescheduling shows. But in light of the announcement made by our government on Monday the 23rd of March, this will now also stop.
Many of our members of staff are now continuing to work from home, and we are operating our Box Office as best we can under these restrictions. The Marina Theatre Trust is committed to the wellbeing of its staff and are proud to say that those who are not able to work from home will still be paid a wage, including any staff who are on 0 hours contracts. This is a troubling time for all of us, but we will continue to look after each other as best we can.
There are, of course, some things which we simply won't be able to do from home – such as answer Box Office calls or offer cash refunds. There may of course be alternative options available to you. We will always do our best, and anything which we can't complete remotely will be actioned as soon as life returns to normal and we get back to our desks!
We are a charity, and closing our doors for a number of weeks will undoubtedly have massive financial implications for us. We have however been shown such kindness and generosity over these last few days. We'd like to once more offer our very sincere thanks to everybody for being so understanding in such a difficult time.
---
---
Updated 20.03.2020
We are a charity, and closing our doors for a number of weeks will have massive financial implications. Our income effectively ground to a halt on Tuesday 17 March, but our outgoings haven't stopped. We still have rent, bills & staff wages to pay.
Thank you everyone for all your support over the years, but now we need your help – maybe now more than ever. We need the support of all of you who know us, and all of you who have a stake in our organisation, to support us over these coming weeks and months. We realise that not everyone is in a position to help, but when all of this is over we're hoping to be able to open our doors to entertain you once more!
We're in the business of bringing people together, and we're sorry that we're not able to do this in our usual way right now. It's really important for our mental health to maintain access to entertainment, and get the opportunity to stretch our creative and social minds. We're already looking at imaginative ways to help get us through these difficult times – some projects are serious, some are silly… but they're all fun! Keep an eye out for more info coming out next week.
Thank you.
4 Ways you can help us:
---
---
---
Updated 17.03.2020
Marina Theatre makes the decision to close 
Following Government advice, and alongside other UK theatres, we have closed from today, Tuesday 17th March, until further notice.  We do not know how long this closure will last, but our policy will be regularly reviewed in-line with Government advice. We are officially cancelling all March & April events. A full list of cancelled events are listed at the bottom of this message.
We make this announcement with a heavy heart, but we respect the recommendations made by our Government and we are keen to do everything we can to help slow the spread of the virus and keep our community, customers and staff safe. 
Customers who have purchased tickets to any events taking place between the Tuesday 17th of March and Thursday 30th April will be contacted by us directly. Most customers will be contacted via email in the first instance, so please also make sure to keep an eye out for emails and be sure to check your junk folders regularly. Please make sure that the contact details we hold for you are correct, as out of date phone numbers and email addresses slow our progress! You can update your account details at any time via our website, or email them to info@marinatheatre.co.uk. Please do not contact the Box Office as they are receiving a large volume of calls. Thank you for your understanding and patience. 
All shows scheduled after Thursday 30th April are in theory still going ahead, but this may change at any time. These are very uncertain times for us all. Shows taking place between Friday 1st May and Friday 31st July have been temporarily taken off sale until our future is clearer. Shows taking place after Saturday 1st September are on sale as normal. 
Please visit our dedicated Coronavirus page on our website to keep up to date with Marina Theatre announcements. 
Statement from Emma Butler Smith, Marina Theatre CEO:
"We've been expecting this announcement would come, and have been working hard behind the scenes to be as ready for it as possible. We appreciate the difficult decisions that our government is facing, and we're willing to do everything we can to help. These are very uncertain times, and many people in our community are facing difficulties. We're also aware that The Marina is a very large organisation, employing 44 local people who are financially reliant on us. 
We have an expensive building to run, and unlike a lot of other not-for-profit theatres of our size we do not receive any core Arts Council revenue funding, and instead rely very heavily on ticket sales and the generosity of our customers. Although this announcement is in the best interests of our community (and we support it whole heartedly) my priority is also to our theatre – and these measures will undoubtedly hit us hard. 
We are however already receiving a number of messages of kindness and support from our customers, many of whom are asking to donate the value of their lost tickets instead of receiving refunds. We are all very touched by the sentiment behind these acts of kindness, and would like to strongly thank everybody who has come forward with offers of help. Your generosity is overwhelming. Thank you."
The following events have been cancelled: 
The Bear: March 17

th

& 18

th

 

The King Is Back: March 20

th

 

Michael Starring Ben: March 21

st

 

Jimmy Buckley: March 22

nd

The Personal History of David Copperfield (Film): March 23

rd

& 25

th

 

The Fairy Queen: March 24

th

Jonas Kaufmann 'My Vienna' (Screening): March 25

th

Rich Hall: March 26

th

The Rocket Man: March 28

th

 

Michael Ball & Alfie Boe – Back Together (Screening): March 29

th

  

Romeo & Juliet (Screening): March 30

th

Bombshell (Film): March 31

st

Happily Never After – Marina Youth Theatre: April 2

nd

The Fureys: April 3

rd

The Simon & Garfunkel Story: April 4

th

 

Tech Club: April 4

th

Dolittle (Film): April 6

th

Easter In Art (Screening): April 7

th

Giovanni Pernice – This is me: April 9

th

Emma (Film): April 14

th

Onward (Film): April 14

th

Astronaut (Film): April 17

th

Military Wives (Film): April 20

th

Jewels (Screening): April 20

th

Herman's Hermits: April 24

th

Misbehaviour (Film): April 27

th
Many of these shows will be rescheduled at our venue during our autumn 2020 and spring 2021 seasons. Rescheduling tours do however take some time to finalise. We do however have some options for our customers:
1)    You can ask for the value of your ticket to be put on your account as credit, which can be used on future performances – including any rescheduled dates.
3)    You can donate all (or part) of the value of your tickets to us. Many of our customers have kindly offered to do this as they understand that this is a very difficult time for us, and theatres in general. If you are in a position to help, we would be enormously grateful.
3)    You can have a full refund.
---
---
Updated 17.03.2020
Following government advice, and alongside other UK theatres, the Marina Theatre is closed from today (17.03.2020). We do not know how long this closure will last at the moment but our policy will be renewed in-line with government advice.
Please check our website over the next few days for further information.
If you have tickets for upcoming events our Box Office team will contact you directly. Please do not contact the Box Office as they are receiving a large volume of calls. Thank you for your understanding and patience.
The Marina Team
---
---
Updated 16.03.2020
We are aware of the most recent update from the UK Government regarding theatres. We are waiting on further advice from UK Theatres, our industry representative to the Government in response to the latest announcement. Please bear with us & thank you for your patience.
---
---
Updated 13.03.2020
What is Marina Theatre doing about Coronavirus?
In light of the current COVID-19 pandemic we're doing everything we can to keep people safe while in our building, while working within the guidelines issued by Public Health England.
As this situation develops and the UK Government's plans change, we will work quickly to update our policies and continue to provide the best service for our customers.
Please read our information below, and check back regularly for updates.
What measures are being taken to reduce the risk of the virus spreading?
We have put a variety of different measures in place, including:
A regular daily regime of cleaning and disinfecting door handles, stair rails and hard surfaces.
Additional hand sanitisers and tissues for customers and staff to use, located at key points throughout the building.
Displaying posters around the building directing people to wash their hands more frequently, and requesting that tissues are always used when coughing and sneezing.
Circulating internal guidelines to staff on new policies on hygiene, physical contact, and policies on staying at home if they're feeling unwell.
We've also introduced strict guidelines backstage, which – amongst other things – includes a 'no guests backstage' rule.
Are you cancelling any shows?
At the moment neither the NHS, the UK Government nor Public Health England are recommending that theatres cancel shows, and we can happily confirm that all of our events are going ahead until we hear otherwise – the show must go on!
If our position changes and we have to cancel any of our performances, please be reassured that we will contact all customers with pre-booked tickets, and will be issuing full refunds.
[Please make sure that the contact details we hold for you are up to date! Incorrect phone numbers or out of date email addresses impede our progress. In the event of a cancelled performance, customers will likely receive an email from us before a phone call – so be sure to check your emails regularly. Email info@marinatheatre.co.uk with your current contact information, and we will make sure that your account is up to date]
Are you offering refunds if I'm feeling unwell?
Tickets are non-refundable unless a performance is cancelled or postponed, and currently all of our performances at the Marina Theatre are set to continue as planned.
Tickets may be returned (up to 10 days before the show) for a credit note for the full value of the ticket minus a per ticket handling fee of £2.
If you are unable to use your tickets due to having Coronavirus symptoms, please speak to our Box Office team and we'll do our best to help you. We may be able to exchange, or re-sell your ticket. Call us on 01502 533200.
What happens if I feel unwell when attending an event?
If you feel unwell with Coronavirus symptoms (see the NHS website for information), you should leave the venue, call the NHS 111 helpline, and follow their advice.