Today sees the London premier of Yesterday – the much anticipated Danny Boyle film firmly rooted in Suffolk. The picturesque views of the Suffolk and Norfolk Coast will be experienced around the world thanks to this latest film from writer Richard Curtis, and today the stars are out for the film's London Premiere in Leicester Square.
"Yesterday, everyone knew The Beatles. Today, only Jack remembers their songs. He's about to become a very big deal."
From Academy Award®-winning director Danny Boyle (Slumdog Millionaire, Trainspotting, 28 Days Later) and Oscar®-nominated screenwriter Richard Curtis, (Four Weddings and a Funeral, Love Actually and Notting Hill) comes a rock-n-roll comedy about music, dreams, friendship, and the long and winding road that leads to the love of your life.
The musical comedy features an all-star cast, including Framlingham's own Ed Sheeran, and was filmed across the Eastern region in 2018, with crews in Halesworth, Gorleston and even Clacton-On-Sea in Essex. Featuring some well-known local spots including Gorelston Beach, James Paget Hospital and Ormiston Denes Academy, the film also saw some of our Marina family take to the big screen.
Fay Bishop a Marina Theatre Steward enjoyed her time as an extra on the iconic beach scene (pictured). The scene shot on Gorleston beach had over 5,000 extras singing along to some of the Beatles greatest hits, with the production supported locally by the county's official film office Screen Suffolk.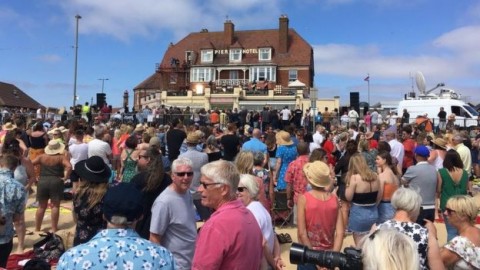 One of our volunteers, Paul Webster even managed to land himself a small speaking part in this summer blockbuster which also stars Lilly James (Mamma Mia 2 Here We Go Again, Downton Abbey) and Himesh Patel (BBC's Eastenders) who leads the cast as Jack Malik – a struggling songwriter who finds fame recreating the now forgotten hits of The Fab Four.
Come and see Yesterday on the Marina Big Screen from the 29th July – 2nd August. Book ahead to beat the queues.