ANONYMOUS DONOR SAVES THE DAY FOR DEAR ZOO!
BACK IN THEATRES THIS AUTUMN FOLLOWING THEFT OF TOUR BUS!
An anonymous donor has come to the rescue of the Dear Zoo live on stage! touring production.   The hit children's show which saw the final leg of its Spring tour cancelled at the end of April due to the theft of its heavily branded tour bus (pictured) and its contents, will be back in UK theatres from 4 September.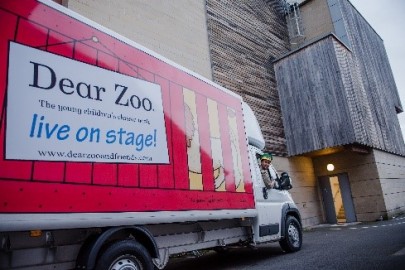 Show producers, Norwell Lapley Productions, are thrilled to announce that the autumn tour will now go ahead and where possible the cancelled shows have been rebooked.   Thousands of families with young children were disappointed on 27 April 2019 when the Dear Zoo live on stage!  tour was brought to an abrupt halt following the theft of the tour bus and its contents in Peterborough.  Despite a nationwide search by the Police and producers of the show, the tour bus and its contents have still not been recovered which has meant a total rebuild of the production at great cost.
With its future in jeopardy, the combination of insurance and the generosity of one individual, has enabled the company to cover most of the financial losses incurred as a result of the theft.   A new set is currently being built and Dear Zoo live on stage! will be delighting audiences once again this autumn.
Discussing the Dear Zoo situation, Chris Davis of Norwell Lapley Productions said "we are really delighted that we are now able to go ahead and put Dear Zoo out on the road again thanks to a very generous anonymous donation.    Support for the show has been amazing and the sympathetic response from the public has been quite overwhelming.    We had confirmed some tour dates for the autumn, but they were in doubt as we were not sure if we would be able to cover costs following the disastrous theft of the Dear Zoo live on stage! tour bus."
Dear zoo will be at the Marina Wednesday 16th October 1.30pm and Thursday 17th October 11am & 2pm. To book you tickets, click here.
Facebook @ @DearZooLive
Twitter:  @DearZooLive