Untold Tales, the Marina's playwritting festival for young writers is returning for its second year!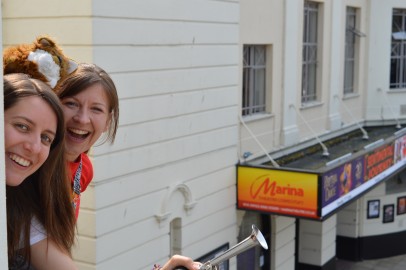 Since January, pupils from schools in Lowestoft and Great Yarmouth have been working with storyteller and Shakespeare teacher Simon Bridge whose work as an educator notably includes the Globe Theatre in London, and East Anglian playwright James McDermott whose Norfolk-based play Rubber Ring is currently being developed for TV, to create their very own short plays.   
"We wanted to create a project that gave young people a chance to express themselves creatively and share their ideas with a wider audience. We received over 151 submissions, and every single script is packed with energy and ambition.  18 of these scripts are now with a professional cast and will be staged at the Marina Theatre on the 2nd July.  The 5-strong cast are taking on over 90 speaking roles, and it's sure to be hugely entertaining spectacle.  There's something very powerful about seeing your words come to life and we hope the young writers and audience members both are inspired." – Will Isgrove, Head of Young People and Outreach.
The project, part of Making Waves Together, has seen the school children learn about characters, settings, dialogue, problems and their resolutions before being challenged to come up with their own unique and dramatic stories. 
Amy Wylie, the director of Untold Tales said: 'I think the most exciting thing about the project is that we present a completely unfiltered view of a child's imagination, it's like a slightly wired dream.' As you can tell, the presentation of these plays next week is going to be a fun and entertaining celebration of the imagination of young writers.
You can support this fantastic evening of young talent on Tuesday 2nd July at 7pm. Book your seats here.