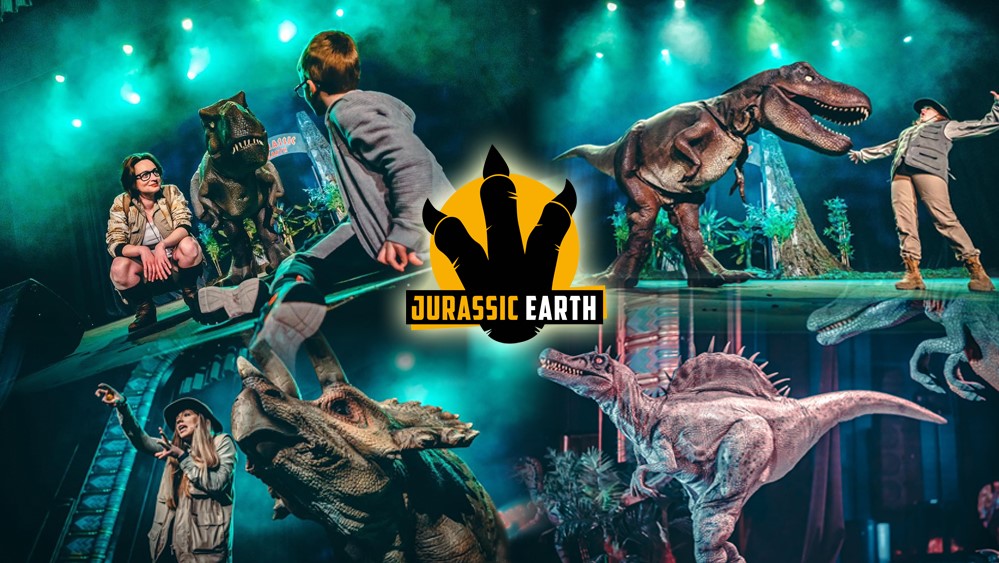 Jurassic Earth
---
Jurassic Earth features roaming, state-of-the-art animatronic life-like Dinosaurs in an interactive and exciting story-telling show, creating a unique, immersive experience for all audiences!
This is an unmissable opportunity to talk to a Triceratops, roar with a T-Rex, scream with a Spinosaurus and revel in a Raptor!
This 75 minute, family-friendly experience features a Velociraptor, Spinosaurus, Triceratops, T Rex and the cutest Dinosaur Babies! Bring your Dino-Mites to see the most magnificent beasts to ever roam our planet!
Joined by a zany Professor, an eccentric Doctor and a team of Rangers, our Dinosaurs bring the Jurassic Era to life in this roar-some show. Combining entertainment with education, Jurassic Earth brings these remarkable creatures to your local theatre, thrilling not just for the children in the audience, but the adults too!
AS SEEN ON TV!
These Dinosaurs have featured on ITV's Dancing On Ice, Don't Tell The Bride, Channel 4's Secret Life of 4 Year Olds, Channel 5's Gadget Show, MTV & SKY and many more!
VIP MEET AND GREET AVAILABLE
This will take place an hour before the show for approximately half an hour.
When you get to the checkout you will be asked if  you want to add a supplementary event to your package, add the number of tickets you would like and this will add the Meet and Greet Experience to your order.
---
Full Price: £21*
Add VIP Meet and Greet experience to your visit for an extra £10 per ticket
*plus an 85p booking fee per ticket
This event has passed.